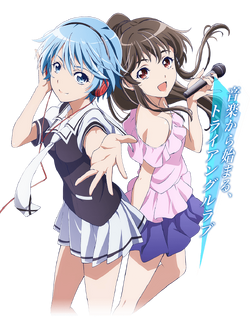 Fuuka (風夏, Fūka?) is a Japanese anime series based on Kōji Seo's manga series of the same name. It is produced by Diomedéa and premiered on January 6, 2017.
Plot
Fuuka is a sequel to the 2004 series Suzuka. The story follows Yuu Haruna, a loner and an avid Twitter user that made a promise with his childhood friend Koyuki Hinashi of starting a band. One night, on his way to buy dinnT$UYO$HIer, he stops to take a photo to upload to Twitter. A strange high school girl named Fuuka Akitsuki accidentally bumps into him and mistakenly believes that Yuu is trying to take a photo of her panties, which causes her to smash his phone. Fuuka leaves behind a CD, which Yuu returns the following day. Appreciating Yuu's personality, Fuuka starts a relationship with him, but this is complicated when Koyuki, now a popular idol, contacts Yuu on Twitter and invites him to attend her concert.
Episodes
See also: List of Fuuka! Episodes
The series' opening theme is "Climbers' High!" by Manami Numakura who voices Tama, vocalist of the band Hedgehogs. The series' ending theme is "Watashi no Sekai" by Megumi Nakajima. For episode 6, the ending theme is "Yukihanabi" (雪花火) by Saori Hayami. The anime ran for 12 episodes and was released across six BD/DVD volumes. Crunchyroll has licensed the series in North America, with Funimation releasing a simuldub for the series. Songs in the anime are performed by My First Story's guitarist SHO, Ellegarden's drummer Hirotaka Takahashi, The Bonez's bassist T$UYO$HI and Takuro Iga, the series' music composer, playing the keyboard.
Music
A soundtrack album titled Fuuka Sound Collection'' was released on 15 March 2017, containing all insert songs and soundtracks from the anime.
In Chapter 189 of the manga, Hoshi no Furu Machi's lyrics from the anime were used, marking the first time the manga took elements from the anime.
External Links